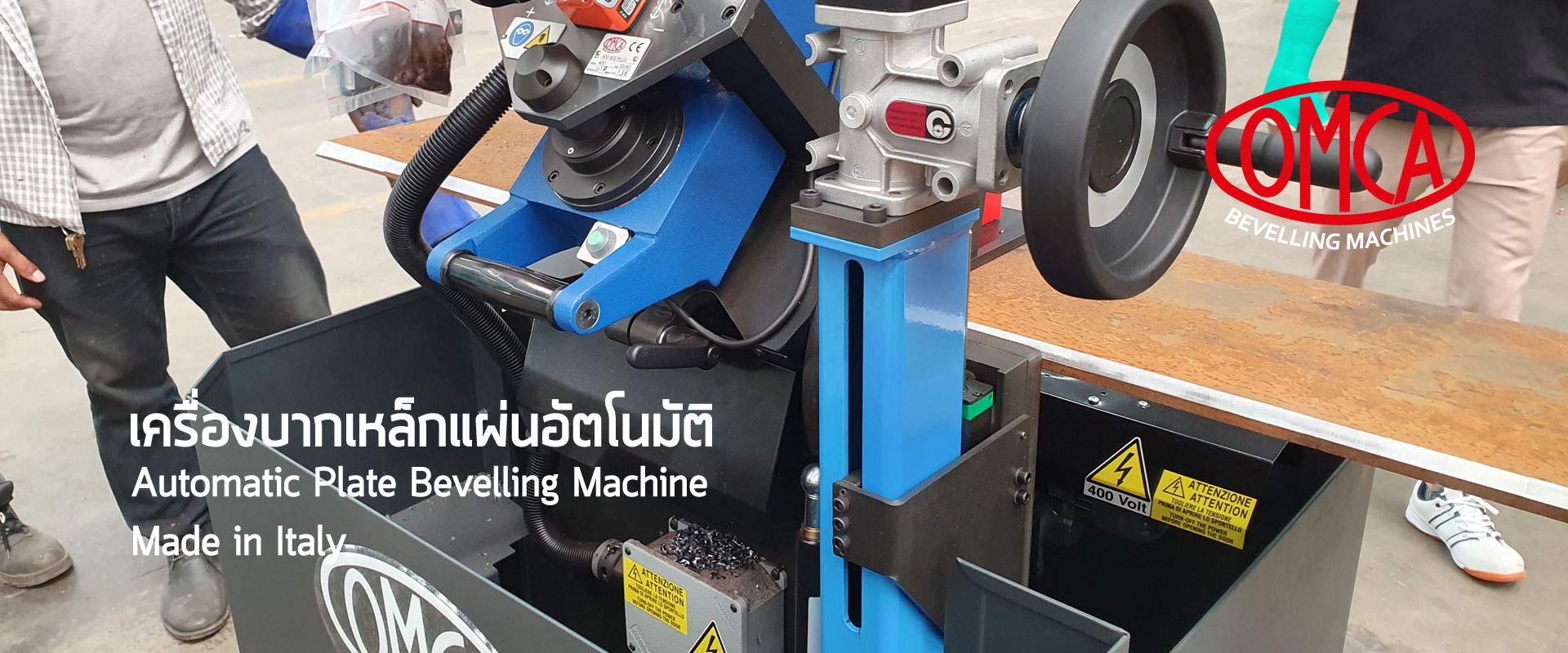 OMCA ...The original is still the Best
For more than 50 years OMCA has been setting the standard in portable plate beveling technology. With each successive technical plateau ... OMCA lead the market. More than 5 decades evolving their craft and their designs. OMCA continues to lead the market and set the standard!
Which OMCA is right for your application?
All OMCA beveling machines are "portable" but some are more portable than others. When deciding which OMCA is right for your application, you should also consider the frequency of use, the range of plate dimensions you intend to process, the range of bevel geometries and the range of material types you intend to process. To help you pick the best machine for your application, we've provided some resources and reference materials on this site.
Machine a bevel in a variety of plate materials with automatic feeding. The plates may be fed into the machine directly, or the machine may be easily setup to follow the edge of a large sheet resting on a bench. All models can machine a bevel in steel, stainless steel, cast iron, aluminium, alloy titanium, hardox, super duplex, etc. The travel speed for all models is at least 0 to 1.0 meters/min. Ergonomics are optimized to insure correct posture of the user, easy access to the controls, and low exposure to vibrations. The cutting tool has inserts so that only a insert may be replaced, rather than the entire cutting tool. Cutting tool inserts specific to the material being beveled improve cut quality and tool life. The trolley comes with height adjustment, chip box, chips protection, swivel wheels and brake. The trolley may be removed.
Automatic Feed Plate Beveling Machine Model Comparison
Art. 900

Art. 900 Plus

Art. 900 Big Plus

Art. 930 Reverse

Art. 930 Big Reverse

Art. 910 Clad

Art. 920 J

Art. 920 J Reverse

Bevel Profile
Applications (1)
Butt - V Groove
Butt - V Groove
Butt - V Groove
Butt - V Groove
Butt - Square
Edge Conditioning
Butt - V Groove
Butt - Square
Edge Conditioning
Clad Stripping
Butt - J Groove
Butt - J Groove
Chamfer adjustment:
5 to 33 mm
(50 mm diagonal)
5 to 36 mm to 36°
(56 mm diagonal)
5 to 36 mm to 45°
(56 mm diagonal)
0 to 33 mm
(53 mm diagonal)
74 mm diagonal
15 mm depth
53 mm width
90 mm depth
55 mm width
90 mm depth
64 mm width
Chamfer angle:
15° to 60°
15° to 80°
15° to 80°
0° to 60°
0° to 75°
90° to 75°
0° to 30°
0° to 30°
Plate thickness, Standard
8 to 50 mm

8 to 60 mm


8 to 100 mm


8 to 60 mm

8 to 70 mm

8 to 100 mm

8 to 100 mm


8 to 100 mm


Plate thickness options:
< 8 mm
8 to 100 mm
8 to 200 mm
< 8 mm
8 to 100 mm
< 8 mm
8 to 100 mm
8 to 200 mm
< 8 mm
8 to 100 mm
none


8 to 200 mm


8 to 200 mm


8 to 200 mm
# Feeding Wheels
2
2
4
2
4
4
4
4
Working height
800 to 980 mm
800 to 980 mm
900 to 1095 mm
820 to 970 mm
930 to 1100 mm
930 to 1120 mm
900 to 1095 mm
920 to 1110 mm
Power:
4.0 kW
4.0 kW
5.5 kW
4.0 kW
5.5 kW
4.0 kW
5.5 kW
5.5 kW
Plate Beveling Application Guide

Application
Machine
Butt Welded Joint - J-Groove

ART.920 J Bevel
ART.920 J Reverse
Butt Welded Joint - V-Groove

ART.900, ART.900 Plus, ART.900 Big Plus, ART.930 Reverse, ART.920 J Bevel, ART.920 J Reverse
Butt Welded Joint - Square
Edge Conditioning

ART.930 Reverse
Clad Stripping

ART.910 Clad
เครื่องบากเหล็กแผ่นอัตโนมัติ